VENUE
---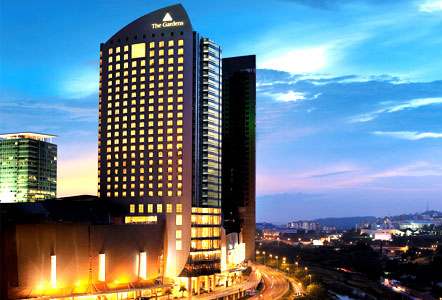 St Giles The Gardens-Grand Hotel & Residences
Mid Valley City, Kuala Lumpur,
Malaysia.

The 5-star St Giles The Gardens-Grand Hotel & Residences is the pinnacle of luxurious living, strategically located between Kuala Lumpur and Petaling Jaya and centrally located within the precinct of The Gardens, Mid Valley City, a premier mall housing countless premium boutiques and brands for the discerning taste.St Giles The Gardens-Grand Hotel & Residences offers a total of 647 premier accommodations with 448 elegantly furnished guestrooms at The Gardens Hotel and 199 luxuriously spacious fully serviced residences at The Gardens Residences wherein privacy is assured for residents with separate entrances and lobbies.
Driving Directions
Car Park Entrance Location Map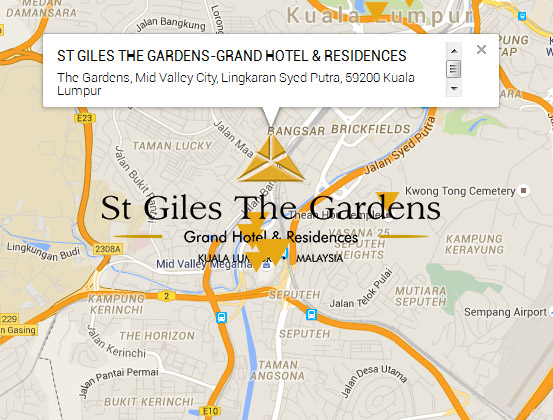 * Click to enlarge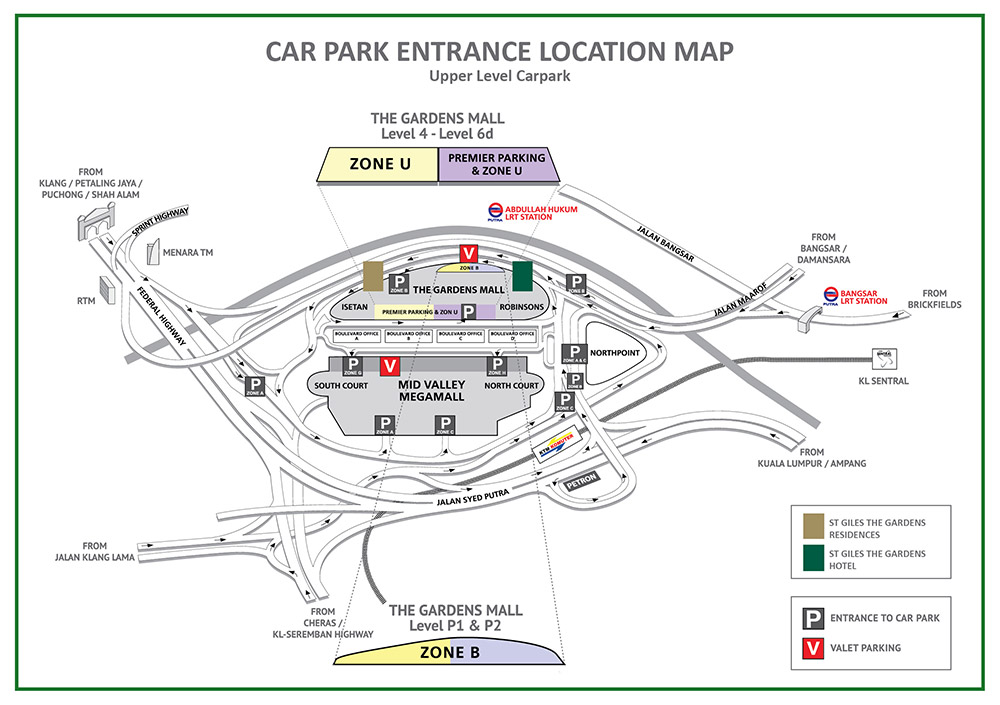 * Click to enlarge
ACCOMMODATION
---
Room Type
Single
Inclusive of 1 buffet breakfast at
The Spread, The Gardens Hotel
Double
Inclusive of 2 buffet breakfast at
The Spread, The Gardens Hotel
Deluxe
RM 444.00 nett
RM 469.00 nett
Executive Deluxe
RM 547.00 nett
RM 627.00 nett
Executive Premier
RM 597.00 nett
RM 677.00 nett
The Gardens Hotel & Residences is the first hotel in Malaysia to offer a non-smoking environment throughout its guestrooms and enclosed areas. However, smoking is allowed in designated areas.
Download Hotel Reservation Form >
Terms & Conditions:-
All rates are quoted nett Ringgit Malaysia inclusive of 6% Malaysian GST
Complimentary broadband internet access for up to 2mb on best effort, maximum of 2 devices per room / apartment unit.
All rates above are subject to review arising any increase in statutory utility tariff rates or any adjustments in Malaysia prevailing taxes.
Applicable for the bookings made directly with the hotel.
Rooms shall be used for accommodation only.
Executive Floor Privileges*
Guest(s) who stays in executive guestroom are entitled to the Executive Benefits:
Check in at the Executive Lounge at 29th floor.
Access to the Executive Lounge which is open daily from 0600hrs to 2300hrs with the following complimentary serving of food and beverages:-

Breakfast at the Executive Lounge from 0600hrs to 1030hrs or at The Spread from 0600hrs to 1000hrs
Complimentary selected soft drinks, juices, tea, coffee and homemade cookies all day.
Afternoon snacks from 1430hrs to 1630hrs.
Complimentary of pre-dinner drinks from 1730hrs to 1930hrs.

Complimentary Welcome Drinks in in-room minibar fridge on the day of arrival.
Complimentary laundry and/or pressing services of 3 pieces per day per room (exclude dry cleaning).
Complimentary daily local newspaper of guest's choice and non-chargeable local phone calls excluding mobile numbers and toll free phone calls.
Complimentary 2 hours usage of meeting boardroom in Executive Lounge, subject to availability. Extension can be arranged at RM 100nett per hour provided room is available.
Usage of the boardroom and Executive Lounge in general is limited to meetings and discussions not involving members of the public, walk-in interviews, sales events, exhibitions, launch of products and services and/or media interviews.
Complimentary unlimited usage of broadband internet access in the room and WIFI at the Executive Lounge.
Each Executive Floor house guest is entitled to bring in 2 guests at any one time and relevant charges will apply.
Child 12 years and below are not allowed in the Executive Lounge.
Check-In, Check-Out And Matter Of Usage
Check-in is at 2.00pm and check-out time is 12.00noon. Request/s for earlier check-in or later check-out may be charged up to 50% of the applicable contracted rate. A full night's charge will apply for late check-outs beyond 6.00pm. Both of these facilities must be pre-arranged and are subject to availability. Rooms shall only be used for accommodation.
Airport Transfer
Destination
(To/From
Hotel)
BMW 7 Series (3 seater)
Mercedes Benz S Class (3 seater)
Mercedes Benz E Class (3 seater)
Toyota Hiace (7 seater)
Toyota Alphard (6 seater)
Toyota Camry 2.0 (3 seater)
KLIA/KLIA 2 Airport
RM 400nett
RM 320nett
RM 270nett
RM 350nett
RM 350nett
RM 200nett
Subang Airport
RM 300nett
RM 230nett
RM 200nett
RM 250nett
RM 250nett
RM 150nett
Terms & Conditions:-
A 50% surcharge is applicable for service hire between 0000hrs to 0600hrs.
Any cancellation made within 24 hours prior to ETA and ETD or No Show will subject to full penalty charge.
To confirm the airport transfer arrangement, it is required guest full name, flight details and mode of guarantee.
Car Parking Facilities
Guest may park at any one of the 4,500 parking bays of The Gardens Mall at prevailing rates. Alternatively, all function guest may opt to enjoy the special parking rate at RM5.00 flat rate per entry per day from Monday to Sunday. Kindly validate the parking ticket at the Function Foyer OR Front Desk of The Gardens Hotel & Residences to enjoy this privilege.
Deposits and Payment
A booking deposit of 50% of estimated total payment is required to secure the above function/ accommodation room. This deposit is non-refundable in the event of cancellation. Full payment of estimated total event payment is required 14 days prior to the event date unless credit has been established in advance with the hotel.
Important Notes:
Delegates shall deal with the hotel directly for all matters of reservation, cancellation, etc.